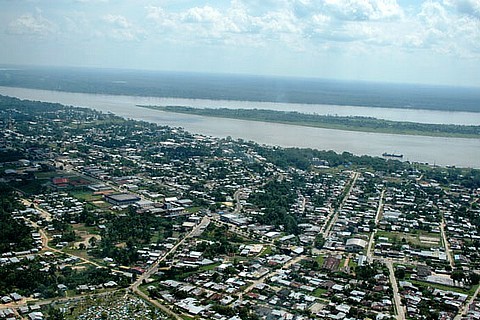 Air view on sister towns Leticia and Tabatinga
THE JUNGLE TOWN LETICIA - AMAZONAS - COLOMBIA
Leticia is located in triple border with Tabatinga (Brasil) and Santa Rosa (Peru) and acessible by plane (from Bogota and Iquitos) or boat (from Iquitos or Manaus) only. The regualar boat from Manaus to the sister town Tabatinga takes 7 to 9 days, the boat from Iquitos to Santa Rosa 3 days. From Bogota Leticia can be reached only by plane.
Even though it is a remote Colombian city, Leticia is very peaceful and isolated from the problems of the rest of the country (FARC). The origin of the name ¨Leticia¨ is misterious, one legend states, that a soldier felt in love with an indian woman, and named the settlement after her name.
Most Letician inhabitants work for government authorities (army, police, administration), some earn their livelyhood by means of fishing and tourism. The five star DECAMERON hotel chain has recently opened their TICUNA lodge downtown.
Popular are jungle trips to the nearby Amazon jungle, the natural reserve MARASHA in Peru, the national park AMACAYACU, the Ticuna settlement PUERTO NARINO and the visit of communities of the TICUNA, YAGUA, HUITUTO and BORA tribes. Near the tributary river YAVARI can be found zones with virgin tropical forest, the natural reserve PALMARI and MATIS and MAYURUNA indians.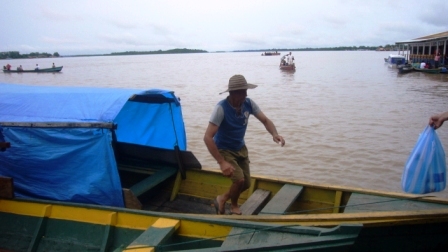 Port area of Leticia
Klick on button below inquiries or reservations of hostels in Leticia.

Border Brasil - Colombia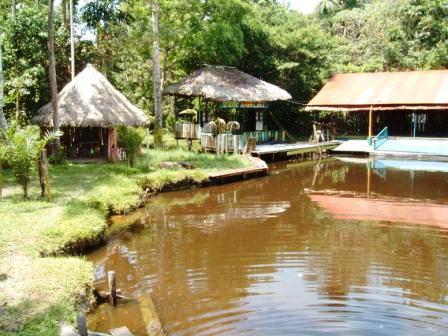 Balneario KM 8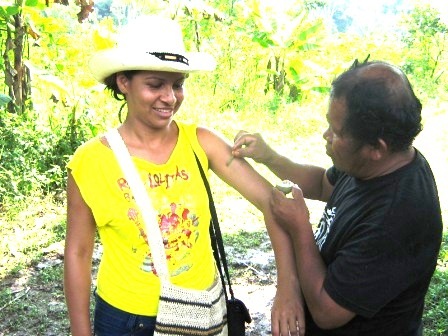 Guide JOEL (right) with visitor
Recommended Hostels and Hotels:
Jungle Hostel Mahatu
CRA 7 No. 9 - 69
ph: +55 3115391265
Mahatu is a jungle house with downtown tropical garden and indian maloka hut. It provides guest kitchen, free use of bycicles and computer. Great athmosphere, simple and clean facilities. Shared bathrooms and showers outside the main house. Dorms from 17.000 Pesos per night. This hostel is TOP voted on
www.hostelworld.com
. Recommended for backpacker and individual travellers.
TIPP: Online promotion: Book on this website, and pay 15.000 Pesos only!
YURUPARY HOTEL

Street 8 No, 7 - 26

ph (098) 592 7983
Yurupary hotel, located near the best restaurant in Leticia, Terrasas Amazonia, offers an excellent value for resonable price. All rooms are equipped with private bath and shower, Ar conditioning, frigobar and cable TV. Hotel facilities include laundry services, tour agency, swimming pool and restaurant. The ideal place for couples on budget or honeymoon. Rooms from 60.000 Pesos.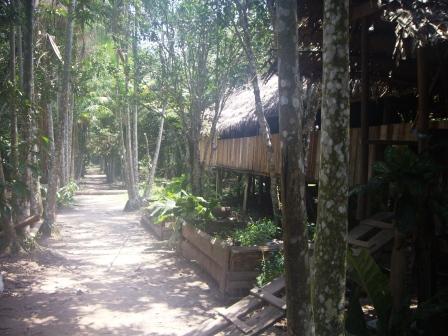 Jungle House near Leticia
Sunset at the river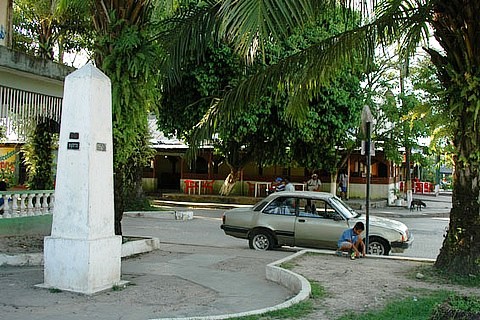 REGISTER HERE for our E-Mail NEWSLETTER!
Sign in below for our newsletter!
Recommended Hotels and Residencias:
1. Hotel La Fronteira
Av. Amizade, 203
ph: +55 (97) 34122008
2. Residencias Colombia
CRA 10 No. 8 - 52
3. Residencias Marina
CRA 9 No. 9 - 29
4. Hospedaje Los Delfines
CRA 11 No. 12 - 81